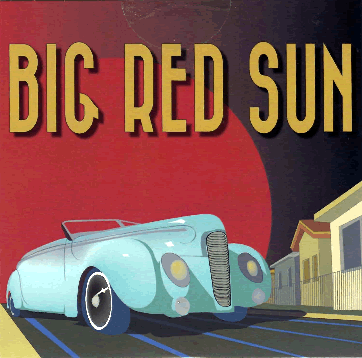 Big Red Sun
Big Red Sun is the story of a family fractured by the Second World War. A son searches for his father through the bewildering landscape of post-war America, where the simple melodies of Kern and Berlin have been replaced by the dizzying energy of jazz and the budding of rock-and-roll. Winner of the 2005 Harold Arlen Award from ASCAP.
Cast Size: 7 (5 men, 2 women)
Show chosen to be presented in National Alliance of Musical Theatre's Festival of New Musicals, October 21-22, 2010 in NYC.
Entire show presented as part of OCUStripped, February 8-9, 2009, at Oklahoma City University. Steven Fontenot and Aaron Brown, co-directors.
Private reading of entire show at ASCAP in New York, June 2007.
Developmental Reading of entire show at TheatreWorks in Palo Alto, California, April 2006. Annette Jolles, director and Tom Murray, Music Director.
Act One presented at ASCAP Musical Theatre Workshop, April 28 and May 11, 2005. Annette Jolles, Director, and Tom Murray, Music Director.
SYNOPSIS
The period just after World War Two is mystifying to those who don't remember it. A terrible enemy had been beaten, the troops flooded home, there was dancing and kissing in the street… it should have been a period of unalloyed joy, an MGM musical come to life. For many people it was. But it wasn't long before the dark clouds began to roll in. Not just McCarthyism---although that certainly qualifies as a dark cloud---but the complacency of the fifties totally baffled the children of the WWII generation. Levittown was a hollow pot of gold at the end of the rainbow. They were grateful for their father's sacrifices…. to a point. But they rejected the blandness and the compromises that followed. The poignancy of that rift between father and son is what drives our story.
It's a tale that we wanted very much to tell with music. Soldiers returning from the war looked around and said "What happened to Jerome Kern? What is all this minor-key jazz and rock and roll? What happened?" In the case of the main character, a jew who struggles with his identity, the change is even more bewildering. Having parlayed his klezmer roots into a career in swing music, he comes home to find himself out of vogue. He must create a new identity, musically and personally. There was a "big red sun" on the horizon, marking the optimism of the fifties, the boiling dissatisfaction of youth, and the tumultuous birth of a new musical era, the sixties.
DEMOS
THE NIGHT BELONGS TO YOU (Eddie and Harry)
Singers: Jason Robert Brown and Daniel Tatar
Piano: Georgia Stitt; Bass: Tim Christensen; Drums: Tom Walsh; Guitar: Kevin Dukes

NOW HE IS A MAN (Eddie)
Singer: Jason Robert Brown
Piano: Georgia Stitt; Bass: Mary Ann McSweeney; Drums: Tom Partington; Guitar: Gary Sieger; Clarinet: Harold Seletsky

SWING SCHMUEL SWING (Eddie and Murray)
Singer: Jason Robert Brown (and John Jiler)
Piano: Jason Robert Brown; Bass: Mary Ann McSweeney; Drums: Tom Partington; Guitar: Gary Sieger

HOMETOWN GIRL (Helen)
Singer: Julia Murney
Piano: Georgia Stitt; Bass: Mary Ann McSweeney; Drums: Tom Partington; Guitar: Gary Sieger

VANTASIA 1 (Harry)
Singer: Daniel Tatar
Piano: Georgia Stitt